Our Google Reviews : Rating 4.8
Karuvadu is fresh and packed well. I bought milk sura and seer fish both are taste good. Worth buying it online.
I ordered from Ahmedabad, Gujarat. The quality of the karuvadu was so nice. It was fresh and no foul smelling.
Fresh and no foul smell..... Good quality product... Feel happy
Vanjiram karuvaad pickle I prepared its v good & tasty .quality is good ,neatly packed all dry fishes good here.
Very gud ! I like very much ghee fish from this shop. Super products, excellent service! Congrats team!
Best quality dry fishes. Great respect and reasonable prices!
Super quality and fresh product
Karuvaddu Kadai Blog Posts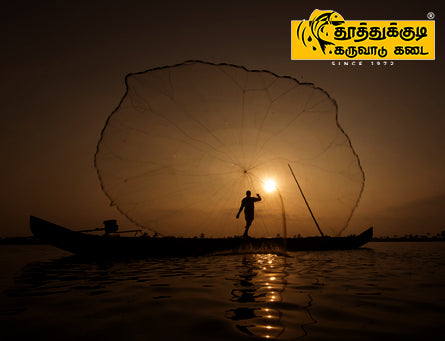 தூத்துக்குடி என்றாலே 1900 காலகட்டத்தில் கடலும் கடல் சார்ந்த தொழிழுமே முதன்மை தொழிலாக இர...
Read more